Key fob pouch with keyless entry protection (red)
Easy return of products within

30

days from the date of purchase without giving reasons
Free delivery from

£20.00
This product is not available in a stationary store
Shielding key fob guard pouch to protect car Keyless Entry keys against car theft. Put keyless car key into signal blocker pocket (with incorporated SilentPocket® technology) which is closed with flap. Our SilentPocket® technology works as a "faraday cage" bag and it is proven to block signals from unwanted RFID scanners. It is tested and approved by German TÜV. Our Car Key Signal Blocker is suitable for all car makes and give you the peace of mind by providing a shield against keyless entry digital crime. The pouch is made of Genuine High-Quality Leather, featuring the trigger snap hook key loop to attach the key fob and the rear slot pocket to hold credit card or any documents.
Stay alert.
Look, how easy is to steal your car with KeyLess Entry System.
WATCH TEST OF KORUMA® KEYLESS FOB GUARD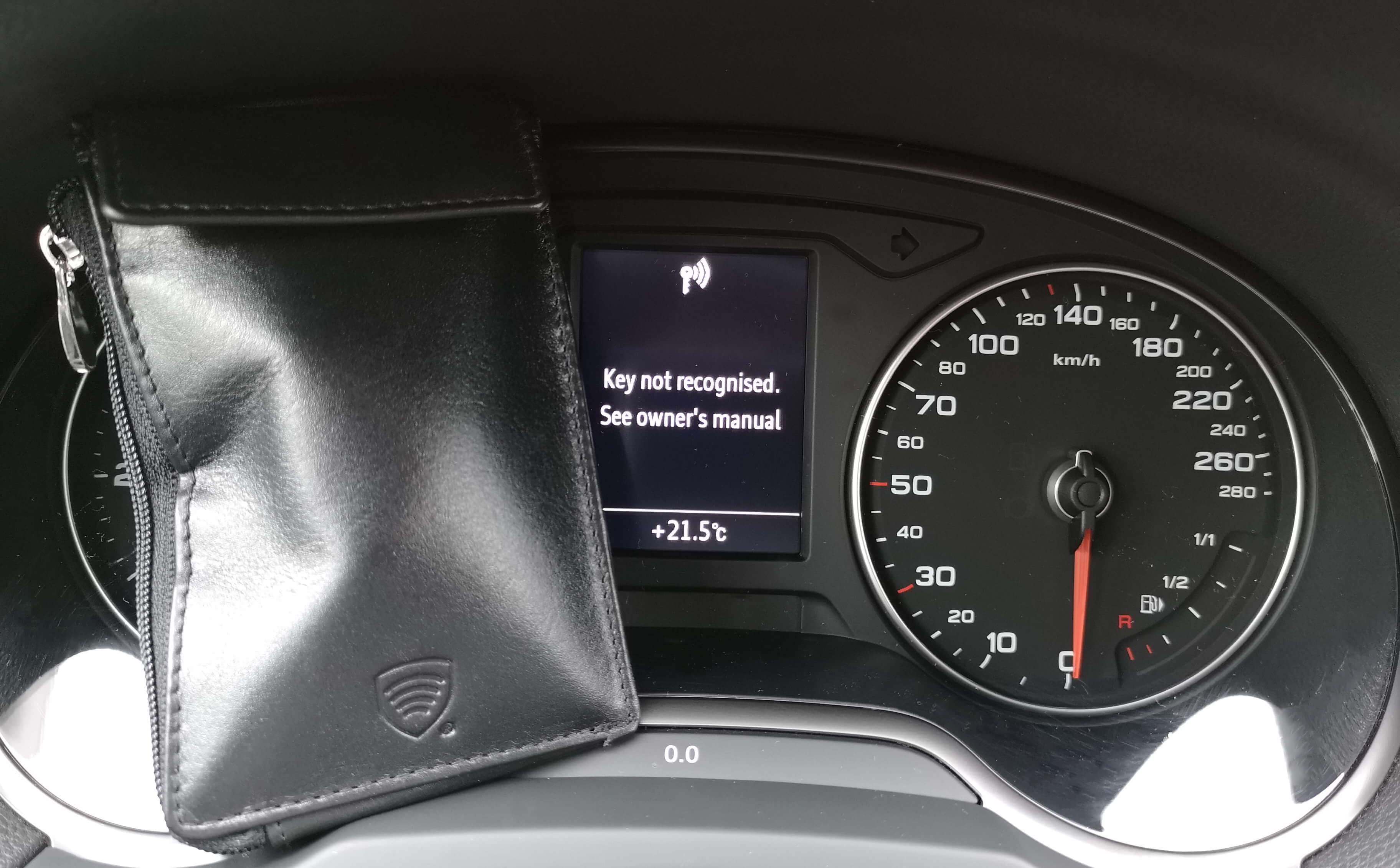 The Telegraph: "Dozens of car models, including BMW, Audi and Range Rover can be remotely unlocked and started using a simple hack" - entire article here
German ADAC has tested several cars with KeyLess Entry System and confirmed they are vulnerable to remote and wireless theft.
Models that can be hacked:
Audi: A3, A4, A6
BMW: 730d
Citroen: DS4 CrossBack
Ford: Galaxy, Eco-Sport
Honda: HR-V
Hyundai: Santa Fe CRDi
Kia: Optima
Lexus: RX 450h
Mazda: CX-5
Mini: Clubman
Mistubishi: Outlander
Nissan: Qashqai
Opel: Ampera
Range Rover: Evoque
Renault: Traffic
Ssangyong: Tivoli XDi
Subaru: Levorg
Toyota: Rav4
Volkswagen: Golf GTD, Touran 5T
Protects following documents
,
,
,
access cards operates on frequency 13,56 MHz (not 124kHz)
,
transit cards such as Oyster, Navigo etc.
Key fob with KeyLess Entry System
Opinions about Key fob pouch with keyless entry protection (red)
5.00
Number of opinions issued: 3
Click a rating to filter reviews