2016-07-11
How to avoid CARD CLASH?
Innovations in technology enhance our life style. However occasionally, instances arise when Innovation can be counter productive when confronted by itself.
Contactless debit or credit card can be recognized by this sign.
This syndrome has been recognised by TFL (Transport for London) in the associated use of RFID technology as payment in the transport system and is now referred to by them as Card Clash.
What is Card Clash?
In this context, Card Clash is when two or more contactless cards (cards incorporating RFID technology - Radio Frequency Identification) for example a credit cards and an Oyster card held in the same cardholder (wallet/purse), work against each other, when the holder is offered up to the reader to be scanned e.g. when getting on a bus or train.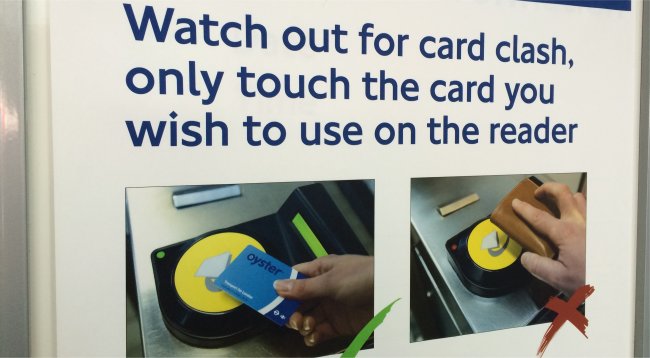 Typically in this situation either:
- The reader will indicate a No Entry, negative response, denying passenger access.
- The reader may arbitrarily chose Any One of the visible cards to read, resulting in payment being deducted from the Wrong Card.
- Read different, random cards in the holder on entry or exit, resulting in double payment.
Recommendations made in the TFL Website (visit tfl.gov.uk) to avoid Card Clash are effective but cumbersome to use.:
-  Don't touch a wallet or purse with multiple cards on the yellow card reader
-  Keep your Oyster card separate from your contactless payment cards
-  Only touch the card you want to use on the reader when touching in and out
At Koruma, we have now implemented new design features into our innovative range of wallets and cardholders. Effectively isolating RFID card technology, whilst not impeding it`s function, thereby counteracting Card Clash.
Check below examples
RFID cards are placed separately on opposite sides of wallet.
- need to remember on which side intended card is placed
- lead to Card Clash (double fare for a journey or deny passenger access)

Oyster card and contactless payment card kept together on the same side
- probability of Card Clash is about 99%

Contactless debit or credit card kept in Koruma RFID blocking sleeve ? card is not readable for reader. Oyster card placed close to Koruma protector
- it might work and prevent from Card Clash however Koruma RFID blocking sleeve can also partially protect Oyster card. Therefore none of the cards will be detected by the reader.

Recommendation made by TFL. Only Oyster card held in the wallet 
- no other contactless cards which could interfere with Oyster card

Solution recommended by Koruma.
Oyster and contactless debit card held separatelly. However debit card kept in Koruma card clash protector
- Oyster card should be read in every case. No more CARD CLASH issue
- Contactless debit card is secured from electronic pickpocketing and any scam. You will be never charged for anything what was not intentional.